Interested in starting your own "food blog" or website? Read on…
Whether you want to start your own food blog or any kind of website or already have one and want to keep growing this is for you! START OR GROW AND MONETIZE YOUR WEBSITE!!!
We're taking a small break today from Mexican Appetizers, if you would like to just jump right over to them, please feel free to skip this post. But if you are interested in learning how to start your own food blog
or website and making money online, this post is for you.
I started my blog 9 years ago and I when I started what a roll a coaster it was! I didn't know where to start. I read everything under the sun. I did my research online. And as expected, I definitely came across information.
Some of the information was very confusing. Some was poorly written. Then there was some information that, although good, became quite overwhelming. The good information was disorganized and certainly incomplete.
There wasn't anything out there that really explained in one area all the necessary steps you needed to do. From getting a domain name, to hosting, designing, building traffic, to monetizing your blog. Bottom line, I truly didn't know which way I was going.
So what did I do? I taught myself as much as I could. All I knew was that I wanted to start a food blog, I wanted to share my passion for cooking, especially making Appetizers. So I made it a point to learn everything I could.
After a year or so of blogging and sharing Mexican Appetizers on Mexican Appetizers and More, I came across Food Blogger Pro. It opened up my world of blogging and offered a 180 degree difference in my blogging world. Everything became so much easier to understand and I finally had a true direction.
So what is Food Blogger Pro?
Food Blogger Pro is an incredible website created by two of the nicest people, Bjork and Lindsay Ostrom from the outstanding blog, Pinch of Yum.
Food Blogger Pro offers more than 300 video tutorials of everything anyone would need to know to start their website. What's just so awesome is how easy these tutorials are to follow.
You don't have to worry about getting lost in translation, not understanding or being able to follow the videos because Bjork and Lindsey make sure to be human, they are truly themselves. They are not throwing technical terms out there without explaining exactly what they mean.
They understand, because they were there, once upon a time too. I've been a member for all this time and I don't regret one day I have been with Food Blogger Pro. I keep learning and my blog keeps growing each and everyday.
One of the best features of Food Blogger Pro is the Live "What's Happening Now" Q&A that they have once a month. Here, Bjork and Lindsey discuss different topics about blogging and answer your questions live. They also have connected with and built a team of industry experts that also answer your questions. And if you would like to connect with other bloggers, the live Community Forum is always available and a great resource to share with other like minded people.
Here's a screen shot of the live community…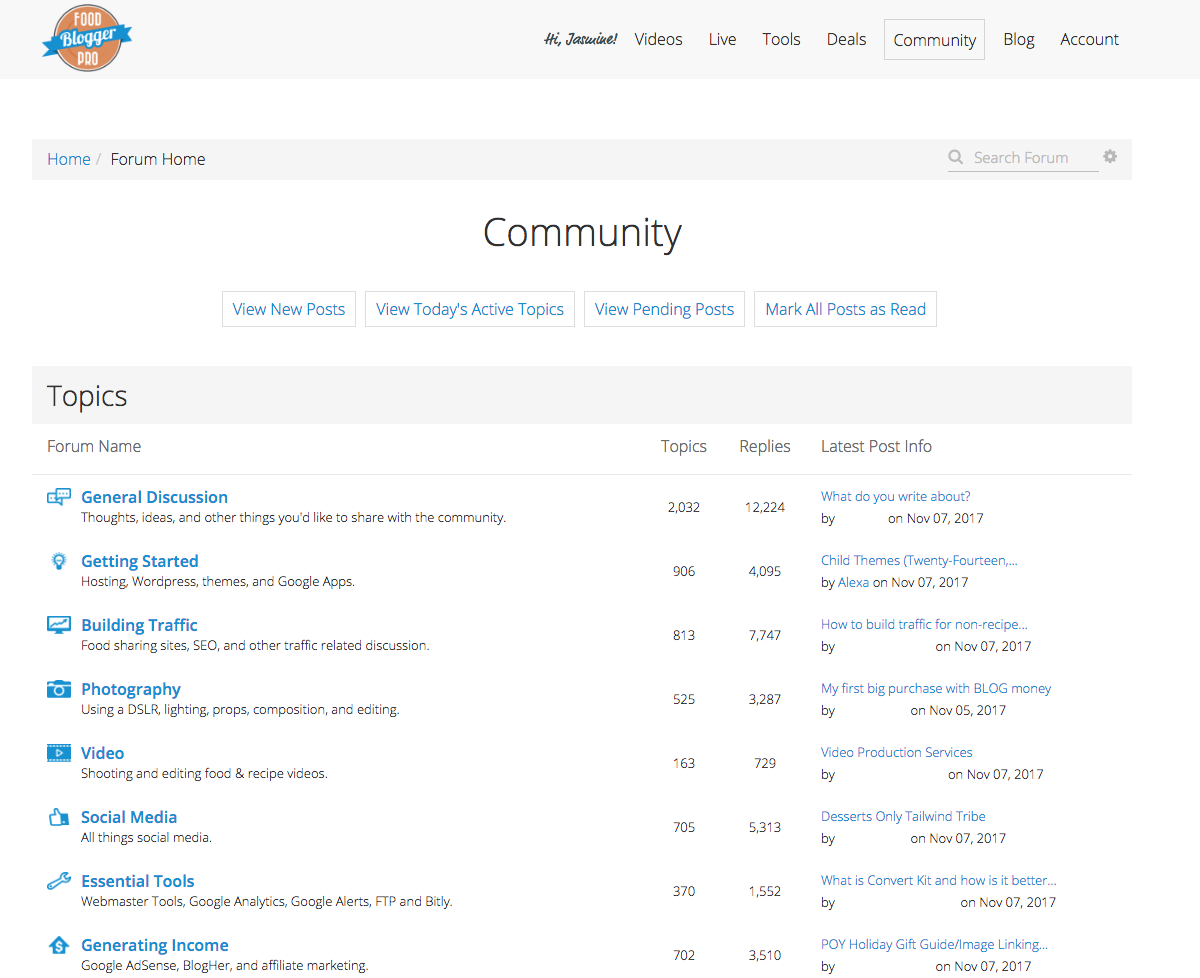 Food Blogger Pro Teaches…
-How to get started on your website, from registering your domain name, hosting, building your pages, writing your first posts, etc.
-Teaches you about SEO (search engine optiminization) and how to rank in Google through tips they offer.
-How to build traffic to your website through different vehicles such as social media, food sharing sites and Giveaways.
-How to create food recipe videos with your phone or a DSLR camera. We all know how popular these have become!
-All about food photography and editing your photos through Lightroom and Photoshop.
-Essential tools and plugins for your website and how to create your own brand email.
-How to track your blog with Google Alerts.
-How to use Google Webmaster tools and improve your SEO.
-How to backup your site so you don't lose it through errors or hackers.
-How to set up a CDN.
-How to write your own ebook, software to use and where to sell it.
-Looking to earn a full time income from your website or simply want to earn a part time income, FBP teaches you how to generate income and how to monetize your blog through ad networks, affiliate marketing, sponsored posts and much more!
-How to get people to sign-up to your subscriber list.
Food Blogger Pro offers insight into many different free and powerful tools to get your website where it needs to be!
NOTE: Although Food Blogger Pro has many videos directed towards the food blogger, it is NOT only for Food Bloggers! This website is great for anyone, anyone that is thinking of starting a website or for anyone who already has one.
I cannot stress enough how important Food Blogger Pro has been for me and how it has helped me in my own journey of blogging. So if you are interested or thinking of starting your own blog and feel lost as to where to begin, I truly recommend taking a look into them. If you already have a website and want to learn how to elevate your site to the next level, please go take a look at them as well.
I'm interested, so what do I do now?
You must hurry because Food Blogger Pro only keeps their doors open to new members a few times a year and only for a limited amount of time. They now have the enrollment period available until tomorrow May 31st. After that, I don't know when their next enrollment period will be. But if you miss it this time around, you can go on their waiting list… Join the Food Blogger Pro Waiting List! You will be contacted the next time they get ready to open again.
The yearly investment of $279 (which is a 20% savings) is absolutely worth it! You can follow the courses at your own pace or jump right over to the video that you are directly interested in.
Food Blogger Pro, also has the option of paying a low monthly fee of $29 a month and you can cancel at anytime, no questions asked. I can confidently say you will not be doing that anytime soon as you will see the incredible value Food Blogger Pro has to offer and will want to stay with them!
Bonus:
Here is a coupon for $3 off your first month or 10% off for the yearly membership, Food Blogger Pro Membership Coupon
Disclaimer: This post contains affiliate links. When I find a great product or service, I like to share it with my readers. I will earn a commission if you purchase through these links. Please note that I've linked to these products purely because I recommend them and they are from companies I trust.
Learn how to start, grow and monetize your blog!
Missed the sign up period? Join the waiting list. Click on picture below ↓ and it will bring you to a sign up waiting list.