Here you will find Mexican, Puerto Rican and other Latin and Hispanic recipes from around the world. Everything from appetizers to desserts.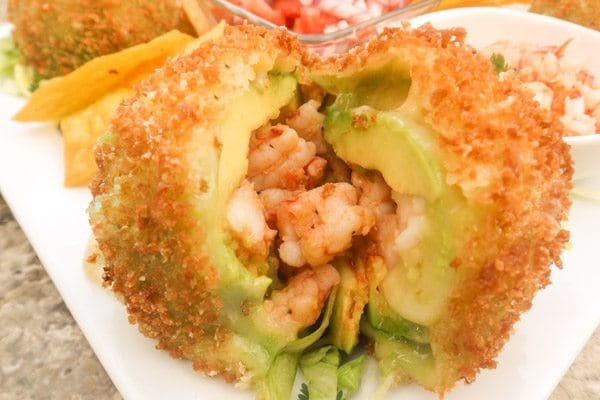 ♦
Here you will find a collection of Mexican, Puerto Rican and other Latin and Hispanic foods from around the world.
With a large focus on Mexican and Puerto Rican dishes including appetizers, meals, salsas, dips, seafood dishes, vegetarian dishes, breads and drinks.
You will also find a concentration of other popular Latin dishes.
All recipes include step by step instructions and photos and many are made in 30 minutes or less.
Create our most popular dish, Fried Avocado Stuffed with Shrimp.
A creamy avocado dish stuffed with savory garlic shrimp, covered with cheese, panko crumbs and deep fried to golden perfection.
Or create these Amazing Beef Mexican Tamales.
No need to be intimidated with Tamales ever. They are really easy to make and a true Mexican staple.
Follow an easy to follow step by step guide with pictures and enjoy this most delicious dish made with a succulent beef mixture and surrounded by a fluffy, moist masa dough. Topped with a red chile sauce or salsa verde. Absolutely delicious!
Looking for a quick and super easy salsa? Try our Super Easy Jalapeño Salsa.
This salsa recipe is perfect with grilled meats, steak, tacos, empanadas, eggs, tortilla chips and so much more. So easy to make and a highly addictive salsa.
Try this Arroz Mamposteao recipe.
A delicious blend of white rice, combined with stewed beans, bacon, onions, peppers and spices creating the most flavorful rice. Perfect side dish for pork chops, steak and chicken.
Rellenos de Papa (Stuffed Potato Balls).
Flavorful picadillo (ground beef hash) surrounded by creamy, smooth mashed potatoes and then rolled in cornstarch, panko breadcrumbs and fried to golden brown perfection.
In the mood for Mexican, Puerto Rican, Ecuadorian, Cuban or other Latin recipes? You are sure to find plenty of delicious options here.
Categories