This Fried Avocado Stuffed with Shrimp (Aguacate Relleno con Camarones) recipe is just out of this world. Surprise your family with this creative, delicious, creamy, cheesy appetizer. Absolute YUM!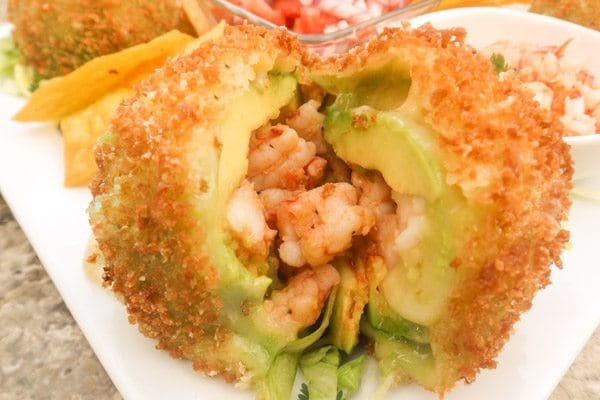 Aguacate Relleno con Camarones
♦
Fried avocado! Really?! Now what about, Fried Stuffed Avocado with Shrimp? That changes everything!
This delicious dish is truly just out of this world!
If you are an avocado lover like I am, then this dish will be that much more perfect for you.
And stuffed with shrimp, oh my gosh no way!!
Endless Avocado Recipes
Yes, there are endless avocado dishes on the internet today and as a matter of fact, quite a few that I have personally made.
Avocado soup, avocado fries, avocado dressing recipes, avocado cream, avocado bread, guacamole , avocado margarita, stuffed avocado cauliflower ceviche, crab stuffed avocado and the list goes on!
But fried avocado stuffed with shrimp?! This is a whole new delicious concept on avocado dishes!
Fried Stuffed Avocado Calories
Avocados are already creamy, yummy and all sorts of divine all on their own, now add a delicious filling, some cheese and fry it up, OH MY GOSH! 🙂
It's crispy on the outside and yummy goodness in the inside.
But just in case you're wondering about the caloric intake on these babies, here it is, this treat comes in at under 600 calories! I think that's totally worth it!
Deep Fried Avocado Balls
These deep fried avocado balls has become a popular appetizer and main course in Texas.
As a result, it keeps showing up on Mexican menus either served by itself as a Mexican appetizer or as a main dish.
If it is served as a main dish you will commonly find it served with yellow rice and a side of refried beans.
Make this delicious treat as an appetizer or as your main course, you choose.
You will not regret it!
Here's to this unique, delicious Tex-Mex food, fried avocado stuffed with shrimp! 🥂
Photos below recipe ↓
Fried Avocado Stuffed with Shrimp
This Fried Avocado Stuffed with Shrimp recipe is just out of this world. Surprise your family with this creative, delicious, creamy, cheesy appetizer. Absolute YUM!
Print
Pin
Rate
Ingredients
2

Haas avocados

pick medium firm avocado, not hard and not soft to the touch

vegetable/canola oil

enough for frying
Shrimp Mix
12

jumbo shrimp

peeled, deveined, chopped

2

Tbsp

butter

1

garlic clove

finely chopped (can use garlic powder to taste

salt and pepper

to taste
Cheese and Breading
1

package monterey or mozzerella cheese

shredded

1

cup

flour

2

eggs

beaten

8

Ounce

box panko bread crumbs

will not need all, use as needed
Pico de Gallo
1/2

small red onion

chopped

1-2

roma tomatoes

chopped

1

tablespoon

fresh cilantro

chopped

1-2

Tablespoons

lime

freshly squeezed

1

jalapeno

half jalapeno chopped finely

salt and pepper

to taste
Serving Avocados
20.5

Ounces

refried beans

homemade tortilla chips

or store bought (optional
Instructions
Preparing and Cooking Shrimp
Peel shrimp and devein. Discard shells.

Chop each shrimp into three pieces.

In a saucepan over medium heat, add 2 tablespoons of butter and garlic. Cook for a minute and add shrimp.

Add salt and pepper to taste.

Saute for a 2 minutes until shrimp turn slightly firm and pink.

Remove from heat and set aside.
Pico de Gallo
Chop red onion, tomatoes, cilantro, jalapeño. Put all in a bowl and mix together. Sprinkle lime juice and season with salt and pepper to taste. Set aside.
Cutting and Preparing Avocados
Cut avocados in half and remove pits with a knife. Slap knife gently against pit and twist to remove.

Now you will have 4 avocado halves.

Hold a halve of avocado in hand, scoop with a spoon some of the avocado flesh out of the center.Do the same with all of the halves (this step allows for more shrimp filling).


With a large spoon scoop all the avocado flesh out away from skin. Refer to pictures.

Do the same with other halves. Set aside.
(Note: If you will not be preparing these right a way, sprinkle avocados a little lemon juice to avoid discoloration.)

Filling Avocados and Breading
Set up three separate bowls of flour, egg and panko crumbs.

Holding avocado half in your hand, scoop some of the shrimp mixture into the center of avocado.

Add cheese all over avocado half including on top of shrimp mixture, pressing cheese onto avocado gently but firmly enough that cheese stays on.

Gently start to squeeze avocado into a ball shape engulfing shrimp mixture.

Roll avocado ball over flour. Dunk ball in egg and finally in panko crumbs to cover.





Repeat full process with other halves.
Frying Avocado Balls
In a deep saucepan or fryer, heat enough oil to be able to submerge avocado balls. When a sprinkle of panko crumbs sizzles oil is ready.

With a spoon gently drop one avocado ball at a time to oil. Cook until golden brown. Watch not to burn balls.Drain on paper towels.

Serving Fried Avocado Stuffed with Shrimp
Heat refried beans in microwave for 2 minutes or in a saucepan.

Serve each avocado ball with some refried beans, pico de gallo and tortilla chips....and slip into heaven!

Enjoy!
Notes
This recipe will yield four balls using two avocados (avocado is cut into four halves) but you can also make to big avocado balls using one full avocado for each ball.
Nutrition
Serving:
4
g
|
Calories:
593
kcal
|
Carbohydrates:
67
g
|
Protein:
22
g
|
Fat:
25
g
|
Saturated Fat:
7
g
|
Cholesterol:
142
mg
|
Sodium:
1480
mg
|
Potassium:
700
mg
|
Fiber:
15
g
|
Sugar:
9
g
|
Vitamin A:
730
IU
|
Vitamin C:
18.7
mg
|
Calcium:
205
mg
|
Iron:
5.4
mg
Tried this recipe?
Click the stars above or below to rate or leave a comment down below!
Photos of Some of the steps:
Cut avocados in half, remove pit and scoop avocado flesh with large spoon.
Notice that one avocado ball is smaller than the other.
That's because the one on the right is just half of an avocado to form one smaller ball while the other ball on the left is bigger because I used a whole avocado to form a bigger avocado ball.
For the bigger avocado ball
Begin with half an avocado. Then fill it with the shrimp mixture. Top it with the other half of the avocado in order to form a bigger ball. Proceed with recipe steps.
This is better if you would like to serve it for dinner instead of an appetizer.
Cover avocado with cheese and flour. The one on the right has just been covered with the cheese (it has not been covered with flour yet for demonstration purposes) and the one on the left has both the cheese and flour.
Then cover avocado balls with panko crumbs.
(Note: Use panko crumbs and not store-bought bread crumbs or homemade bread crumbs because otherwise your fried avocado balls will come out too brown and almost burnt looking. The panko crumbs gives them a beautiful golden color.)
The one on the left is a whole avocado and the one on the right is half of an avocado ↓
Serve with refried beans, tortilla chips and tomato, onion, jalapeño and cilantro mixture.
Note: You may want to make this recipe exactly as it calls for, in other words, use half an avocado instead of a whole one unless you will be making this recipe as a main dish. Otherwise it will be too filling and rich as an appetizer.
For more delicious avocado recipes, check these out:
Taquitos with Avocado Cilantro Cream Sauce
Mexican Mini Beef Flautas with Avocado Cream
What do you think about this fried avocado stuffed with shrimp?