This post is a compilation of 37 delicious meatless meals. Everything from appetizers, vegetarian dishes, side dishes, desserts and breakfast.
Check out these 37 Easy, Delicious meatless inspirations!
Perfect for Good Friday 🙏
Appetizers
These Jalapeño Deviled Eggs are so creamy and absolutely delicious! Super simple to make. In under twenty minutes you will have a superb appetizer to serve anytime.
The Best Roasted Poblano Bean Dip is by far one of my top favorite dips. Definitely a crowd pleaser!! Made with roasted poblano peppers, onions, scallions, garlic, cilantro, refried beans, shredded pepper jack cheese, topped with a poblano sauce and finished with queso fresco, scallions, avocado cubes and more cilantro. Excellent dip!!
These Chipotle Deviled Eggs are a delicious twist on the classic. Creamy, smoky, delicious and huge on flavor in one small bite.
A delicious combination of seafood meets guacamole. Serve Seafood Guacamole with tortilla chips and have yourself an excellent appetizer.
This Super Easy Jalapeño Salsa recipe is perfect with grilled meats, steak, tacos, empanadas, eggs, tortilla chips and so much more. Easy to make and highly addictive salsa.
This Avocado Cilantro Sauce recipe is hyper-delicious and super easy to make. Made with avocados, jalapenos, cilantro, fresh garlic, olive oil and limes. Perfect for tacos, empanadas, tortilla chips, tostadas, eggs and much more!
Plantain Chips (Platanutres) are delicious, and super easy to make at home! No more store bought chips! Make these at home for a quick, easy healthy snack for the whole family. Or serve at your next chips and dip gathering!
Join our mailing list to receive delicious Latin meals right to your inbox and get access to our "exclusive library" filled with freebies such as kitchen decor, checklists, meal planners and more!
Seafood Dishes
These Tostadas de Camaron (Battered Fried Shrimp Tostadas) are hyper delicious and ultra satisfying for any tostada craving! Topped with shredded lettuce and chopped cilantro. Then finished off with a delectable Jalapeño Tartar Sauce, hyper tasty Tomatillo Pico de Gallo and lime juice!
Mofongo con Camarones or Mofongo de Camarones (Mofongo with Shrimps) is a hyper delicious Puerto Rican dish made with a garlic plantain mash and served with shrimps in a salsa criolla sauce. One of the best dishes you will ever have!
Camarones a la Crema (Shrimps in a Chipotle Cream Sauce) is a delicious shrimp dish made in a creamy chipotle cream sauce that is cooked in twenty minutes or less, making it the perfect weeknight meal. Serve with rice or veggies for a full savory meal or even as an appetizer.
Camarones al Ajillo (Puerto Rican Garlic Shrimp) are cooked in a delicious broth of butter, garlic, lime, white wine and cilantro or parsley. Serve as an appetizer, with pasta or on top of rice. Yummylicious!!
These Camarones Empanizados (Battered Fried Shrimp) are hyper delicious. Perfectly crispy on the outside and tender on the inside. This batter will be one of the best batters you will come across for the most perfect crispy succulent tender shrimp fry! This dish is perfect as an appetizer or served as a meal with a side of fries or salad.
Tilapia Ceviche Tostadas make the perfect appetizer, lunch or meal. Not just super simple to make but hyper delicious! Made with tender tilapia pieces cooked and marinated in fresh lime and lemon juice and combined with red onions, jalapenos, tomatoes, yellow peppers, cilantro, garlic and topped on a bed of creamy avocado and a crispy tostada.
The best Stuffed Mushrooms Recipe! Made with scallops, onions, tomato, jalapeños, heavy cream, butter, pepper jack cheese and fresh bread crumbs. Moist, creamy and hyper delicious!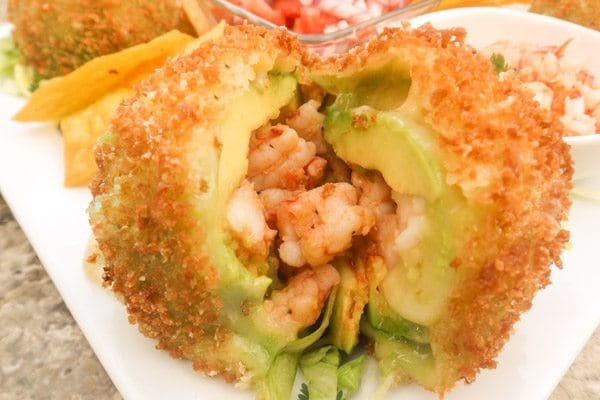 This Fried Avocado Stuffed with Shrimp (Aguacate Relleno con Camarones) recipe is just out of this world. Surprise your family with this creative, delicious, creamy, cheesy appetizer. Absolute YUM!
These Shrimp Ceviche Tostadas (Tostadas de Camarón) are excellent anytime. Tender succulent shrimp ceviche on top of an avocado cream spread and a crispy tostada. Excellent refreshing and light recipe.
Never knew you could make ceviche out of canned tuna? This Albacore Tuna Ceviche recipe will surely surprise your taste buds over and over again. It is so easy, super simple to make and absolutely delicious!!!!
Excellent Ceviche Verde-Green Ceviche! Made with shrimp, fresh tomatillos, habanero peppers, serrano peppers, scallions, garlic, cilantro, avocado and fresh lime juice. Hyper delicious Mexican appetizer!
Vegetarian Dishes and Sides
This Ensalada de Papa (Puerto Rican Potato Salad) is creamy and all kinds of delicious! Made with boiled potatoes, red onions, red peppers, boiled eggs, mayonnaise, vinegar, salt and pepper. A yummy, no fuss potato salad. The perfect side to any meal!
Tortitas de Papa (Potato Fritters) are delicious potato patties that are perfectly crispy on the outside, creamy and fluffy on the inside. A perfect little morsel for any meal of the day!
Sorullitos or Sorullitos de Maiz are Puerto Rican cornmeal fritters or corn sticks. With a crispy outside and a soft and buttery inside, they make for a delicious snack, appetizer or side dish. (Gluten free)
Garlic tostones (fried plantains) are the perfect side dish to any Latin/Hispanic meal or served as an appetizer or quick treat. Served with a delicious garlic aioli sauce.
This recipe is light, refreshing and hyper tasty. Stuffed Avocado Cauliflower Ceviche is great for the Vegetarian, Vegan or meat lover alike. Made with just a few veggies and marinated in fresh lime juice. Ready in 30 minutes or less! (gluten free, low carb, paleo)
These Avocado and Chipotle Mushroom Tostadas are simply delicious and perfect anytime. Made with avocado, chipotle mushrooms and then topped with lettuce, tomatoes, scallions, queso fresco, Mexican crema, salsa verde and sprinkle of lime juice. Truly healthy and hyper delicious!
This Morisqueta recipe is a delicious Mexican dish consisting of white rice, topped with beans and a savory tomato sauce made with onions, garlic and serrano peppers which is then finished with crumbled queso fresco, Mexican crema and chopped cilantro. Excellent side for any meal or served by itself for a scrumptious Vegetarian dish.
Pair up this delicious rice, Cilantro Lime Rice with anything. Your options are limitless. Excellent with grilled chicken, fajitas, smothered pork chops, stuffed in tacos, burritos and even on top of nachos.
Easy Delicious Mexican Street Corn (Elote) with all the toppings. Made with sweet corn, mayonnaise, cotija cheese, ancho chili powder, lime and cilantro. Excellent appetizer or side dish!
Fruits, Sweets and Desserts
Fresas con Crema (Strawberries and Cream) is a quick hyper delicious snack or dessert for any day. Made with 4 ingredients and in less than 10 minutes. Exquisite and elegant dessert!
These Quesitos (Cream Cheese Puff Pastry) are a delicious flaky, light and tasty pastry. Perfect for breakfast or dessert. An easy traditional yummy Puerto Rican pastry.
Pastelillos de Guayaba (Guava Pastries) are a delectable treat that are perfect for a scrumptious dessert, breakfast or snack. Made with just 3 simple ingredients! Don't forget the coffee!
Mantecaditos (Puerto Rican Cookies) are crisp, yummy buttery cookies that are truly perfect anytime. Serve them up with coffee or tea and you're good to go! Made with just a few ingredients and easily shaped, these Puerto Rican cookies are no fuss anytime especially around the holidays!
Fresas y Arándanos con Crema (Strawberries, Blueberries in Mexican Cream) is a cool, refreshing and delicious dessert, breakfast or snack and is quickly made in just 10 minutes. This delicious dessert recipe is sure to become your next best all time favorite Mexican dessert!
Breakfast
Dulce de Leche French Toast with Cinnamon Sauce is an excellent breakfast choice for both adults and kids. This french toast can even be served as a quick lunch or dinner. Made with eggs, milk, sweetened condensed milk, vanilla extract and ground cinnamon.
Bolón de Verde (Green Plantain Fritters) are a delicious fried treat filled with cheese, chorizo or chicharron (pork cracklings). Perfect for breakfast, lunch or appetizer.
This Simple Poached Egg and Avocado Toast recipe is the most perfect delicious healthy breakfast. Breakfast of champions! With an avocado spread made with cayenne pepper, chives and topped with a perfectly poached egg.
These Gorditas de Azucar (Sugar Gorditas) can be enjoyed at anytime of the day especially for breakfast or midday snack with coffee, hot chocolate or milk.
These Home Fries with Peppers and Onions are perfect and a delicious companion to your breakfast. Whether you make a batch of scrambled eggs, poached eggs, eggs over easy, pancakes or waffles, these home fries with peppers and onions will be just perfect. Crispy on the outside and creamy yummylicious on the inside.
I hope you enjoyed these meatless recipe ideas and that you get inspired in the kitchen, LIFE MAY BE SHORT, BUT IT DOESN'T HAVE TO BE BLAND!!
DON'T FORGET TO: ↓
Join our mailing list to receive delicious Latin meals right to your inbox and get access to our "exclusive library" filled with freebies such as kitchen decor, checklists, meal planners and more!