Thinking about making some seafood dishes for Cinco de Mayo? This list has you covered! Everything from tostadas, dips, appetizers, soups and dinners all made with scrumptious seafood! Your full menu covered!
It's that delicious time of the year again my Mexican food lovers! Time to make some yummy appetizers, dips, drinks and all the other dishes you enjoy making this time of year!
Here are some of our seafood favorites to make for the big day!
Tostadas
These Tostadas de Camaron (Battered Fried Shrimp Tostadas) are hyper delicious and ultra satisfying for any tostada craving! Topped with shredded lettuce and chopped cilantro. Then finished off with a delectable Jalapeño Tartar Sauce, hyper tasty Tomatillo Pico de Gallo and lime juice!
Tilapia Ceviche Tostadas make the perfect appetizer, lunch or meal. Not just super simple to make but hyper delicious! Made with tender tilapia pieces cooked and marinated in fresh lime and lemon juice and combined with red onions, jalapenos, tomatoes, yellow peppers, cilantro, garlic and topped on a bed of creamy avocado and a crispy tostada.
These Shrimp Ceviche Tostadas (Tostadas de Camarón) are excellent anytime. Tender succulent shrimp ceviche on top of an avocado cream spread and a crispy tostada. Excellent refreshing and light recipe.
Never knew you could make ceviche out of canned tuna? This Albacore Tuna Ceviche recipe will surely surprise your taste buds over and over again. It is so easy, super simple to make and absolutely delicious!!!!
Smoky Black Beans Avocado Tostadas
These Smoky Black Bean Avocado Tostadas recipe is absolutely delicious, simple and quick to make. Made with a shrimp, black bean chipotle puree, monterey jack cheese, guacamole, grape tomatoes and scallions.
Appetizers
This Mexican Bruschetta Recipe is made with a fresh guacamole, tomatoes, red onions, jalapeños, garlic, cilantro, lime juice, topped with queso fresco, savory cooked shrimp (shrimp optional) on top of toasted french baguette. Excellent!
The best Stuffed Mushrooms Recipe! Made with scallops, onions, tomato, jalapeños, heavy cream, butter, pepper jack cheese and fresh bread crumbs. Moist, creamy and hyper delicious!
Excellent Ceviche Verde-Green Ceviche! Made with shrimp, fresh tomatillos, habanero peppers, serrano peppers, scallions, garlic, cilantro, avocado and fresh lime juice. Hyper delicious appetizer!
This Salpicón de Mariscos (seafood medley/seafood salad) is so delicious and so pretty. I made mine with mussels, shrimp and scallops.
These Pinchos de Camarones wrapped in rice noodles, served with an avocado jalapeño dip is a perfect addition for Cinco de Mayo and any Friday night cocktails!
A twist on the classic! A delicious combination of seafood meets guacamole. Serve Seafood Guacamole with tortilla chips for an amazing starter for Cinco de Mayo or anyday! Excellent!
These Baby Clams in Serrano Sauce are deliciously flavored and cooked in a fresh garlic serrano sauce. Another delicious seafood appetizer!
Mexican Beer Little Neck Clams
These Mexican Beer Little Neck Clams are cooked in their natural juices, Mexican beer, jalapeño peppers, onions, corn, parsley and butter. Absolutely delicious!
Camarones Fritos con Crema Chipotle
Camarones Fritos con Crema de Chipotle (Fried Shrimp with Creamy Chipotle Sauce) is a truly perfect appetizer! Marinated shrimp, then fried and served with a creamy chipotle sauce.
This Tilapia Ceviche is so delicious and refreshing. The tilapia is cooked and marinated in fresh lime juice with cucumbers, tomatoes, onions, jalapeños, garlic, cilantro, scallions and served with crispy plantain chips. Excellent!
These Baked Mussels recipe (Mejillones Asados) topped with a sliver of serrano pepper are absolutely delicious and incredibly easy and simple to make! Made with fresh breadcrumbs, fresh garlic, olive oil and white wine.
Fried Calamari with Creamy Chipotle Sauce
Crispy tender Fried Calamari served with a Creamy Chipotle Sauce and fried to golden perfection. Excellent!
Spicy Mussels in White Wine Sauce
These Spicy Mussels in White Wine Sauce are made in a savory white wine serrano garlic butter sauce. The serrano offers a subtle amount of heat that enhances the flavor of the mussels. Excellent dish!
Soups
This Caldo de Camarón (Mexican Shrimp Soup) is made in a spicy (or non-spicy) fresh tomato guajillo pepper puree and flavored with succulent plump shrimp. Serve with avocado slices, toasted tortilla strips and lime wedges.
This Sopa de Camarones (Mexican Shrimp Soup Recipe) is delicious comforting soup and perfect as an appetizer or meal!
This Shrimp Bisque is perfect every time! Made with tender plump shrimp, (quick) homemade shrimp broth, onions, plum tomatoes, garlic, dry sherry, heavy cream, butter, cayenne pepper, cilantro, topped with avocado cubes and queso fresco. Hyper-delicious, savory and creamy bisque. Excellent!
Deliciously blended seafood soup, Pozole de Mariscos (Seafood Pozole). Seafood broth has clams, calamari, scallops, shrimp, snow crab, blue crab, lobster, white hominy and seasoned with Mexican pepper chilis, garlic and spices. Excellent soup!
Dinner
Fried Avocado Stuffed with Shrimp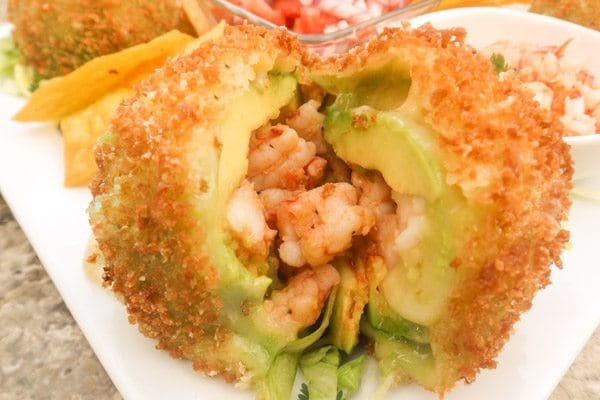 This Fried Avocado Stuffed with Shrimp (Aguacate Relleno con Camarones) recipe is just out of this world. Surprise your family with this creative, delicious, creamy, cheesy appetizer or serve for dinner with a side of Mexican rice! Absolute YUM!
Camarones a la Crema (Shrimps in a Chipotle Cream Sauce) is a delicious shrimp dish made in a creamy chipotle cream sauce that is cooked in twenty minutes or less. Serve with rice or veggies for a full savory meal or even as an appetizer.
Camarones a la Diabla also known as Gambas a la Diabla or Diablo Shrimp (Mexican Deviled Shrimp) are perfect on their own as an appetizer served with corn tortillas or as an entree over white rice. Savory tomato spicy sauce made with arbol peppers. Excellent!
These Camarones al Chipotle (Chipotle Shrimp) are just excellent. Savory shrimp made in a savory tomato chipotle sauce with onions, scallions and topped with fresh cilantro. Serve as an appetizer or top on white rice and serve as a meal. Excellent!
These Tacos Gobernador are the perfect crispy cheesy shrimp tacos you will ever come across.
These Chipotle Lobster Tails are so succulent and delicious. Cooked in a savory chipotle garlic broth. Excellent!
There you have it, 28 delicious seafood dishes to get your Cinco de Mayo seafood party on right from home!
Non-Seafood Recipes for Cinco de Mayo
Salsa and Dips
Vegetarian Dishes
Drinks
Want to save this list and come back later? Pin it! (Click on Image Below ↓)